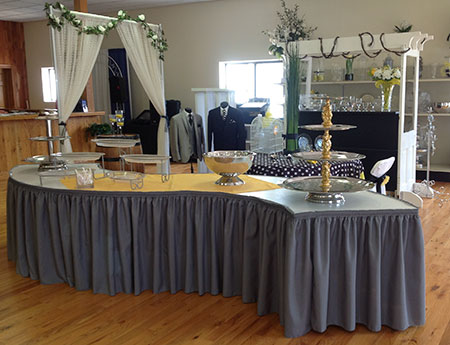 While your main focus might be getting event draping or table and chair rentals for your next event, it's important not to forget all of the little things that make a party great. When you work with Personal Touch Party Rentals & Events, we go out of our way to provide you with all of the rentals in Ohio you need to keep the party going:
Table Settings
We offer an extensive selection of glassware, flatware and bowls to ensure your table it set for whatever feast you're serving up! Our catering equipment is guaranteed clean and in pristine condition, so you can focus on the food without having to worry about plastic table settings or the cleanup that can come with proper flatware.
*All prices are subject to change*
Place Settings
Dinner Plates
Salad Plates
Bread & Butter Plates
Salad Bowls
Cups & Saucers
Glassware
Coffee Mugs
Traditional Champagne & Flutes
Punch Cups & Bowls
Water Goblets
Stemmed & Stemless Wine Glasses
Rocks Glasses
Pilsner Glasses
Martini Glasses
and more!
Flatware
Dinner forks
Knives
Salad forks
Steak knives
Teaspoons
Serving spoons
Serving Pieces
Chafing Dishes
Coffee Makers
Misc. Serving Bowls
Tiered Trays
Ice Tubs
Drink Trough
Pitchers
Cake Plateaus
Punch Fountains
Chocolate Fountain
and more!
Concession and Game Rentals
Concession equipment: Looking to serve up some fun at your next event? Get in touch with us for a portable bar, snow cone machine, cotton candy machine rental, margarita machine, grill or hotdog warmer! We help add the extra touch of flair to your event with concessions. Because who doesn't love a party with a cotton candy machine rental in Ohio?
Game equipment: Keeping your guests entertained and engaged is a top priority. Get in touch with us about setting up a volleyball net or a dunk tank to ensure no moment is ever dull at your next event! We also have roulette and blackjack tables, prize wheels, and cornhole games.
To ensure your party is memorable and accommodating of your guests' needs and wants, be sure to consult with Personal Touch Party Rentals & Events for catering and concessions equipment. We'll help you determine exactly what you need to make your Lancaster, Fairfield County, Colfax, or Wesley Chapel, OH party the best it can be. For more information about any of the rental options we offer or to inquire about pricing, contact us today by calling 740-689-6991.