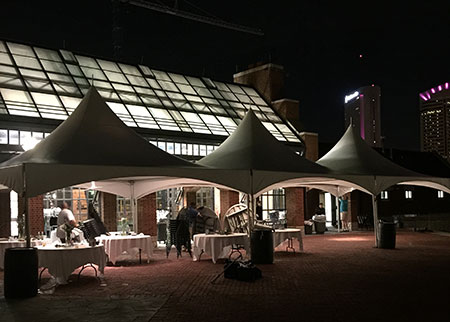 There are numerous reasons to celebrate in life and when they come around, it's important to celebrate right! This means setting up your events to meet the expectations of the people attending them. At Personal Touch Party Rentals & Events, we know a great party starts with the right rentals in Ohio.
To ensure your party is memorable, enjoyable and exciting, we stock a wide inventory of event rental options, perfect for any celebration. Some of the events we're adept at helping you plan for include:
Weddings: Tying the knot is a day-long celebration and one that you're sure to remember for the rest of your life! With all of your friends and family spending the day with you, you're going to need a bevy of rental items to keep everyone comfortable and happy. We offer all of the tables, chairs, linens, dishware and wedding decorations you need to occupy your wedding crowd.
Graduations: Moving on from days of higher learning? Spend the day celebrating your accomplishments with those who are proud of you! We'll be there to provide tent rentals, tables, chairs, dance floors and more when you turn your tassel and receive your diploma!
Birthday parties: Make your next birthday bash a good one with the right event rentals. From game tables to projection screens, dance floors to basic table and chair rentals, we'll assist you in taking your party up a notch.
Corporate events: Bring the team together and show them you appreciate them at a corporate event. No matter what the day entails, know we've got the event rentals to ensure everything goes smoothly, whether you're a company of a few people or you've got hundreds of faithful employees.
Other events: From bat/bar mitzvahs to retirement parties, anniversary bashes to community events, trust us for any and all event rentals you might need to complete your get-together.
*All prices are subject to change*
No matter what you're celebrating or who you're sharing the occasion with, Personal Touch Party Rentals & Events is here to ensure you're having the best time possible. Whether it's providing you with enough chair and table rentals in Lancaster, Fairfield County, Colfax, and Wesley Chapel, OH or helping you add an extra special touch with a different rental item, we're on hand to help in any way we can.
Contact us today for more information about any of the products we offer or for more information about our rental rates and logistics.
We can be reached at 740-689-6991.